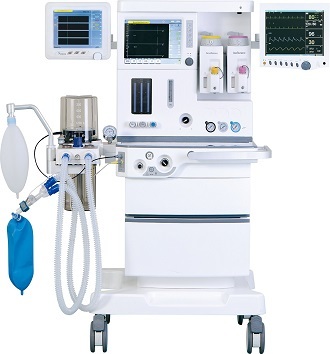 Anesthesia Workstation
Product Code : venus 02
15000 USD ($)
Price And Quantity
Minimum Order Quantity

:

1
Unit of Measure

:

Piece/Pieces
Product Description
Safety
l Threelevel alarming system, visual and sound alarm information.
l Intelligentdual system controls ensure safe use in clinics.
l Withlots of alarming, reminding and protection functions.
l Advancedpower management control technology.
l Withbuilt-in backup power source, when outside power source goes off, back-up powersource starts to work.
TrustPoints
Simplicity: easy to use, easy to move with 4 wheels.
Choice: adapt the equipment to your patients andprocedures freely
Patient Centered Ventilation: Precision in an anesthesiaventilator, from conventional ventilation to advanced modes, including 5 modes:IPPV; A/C; PCV; SIMV; SIGH, MAUN.
Designed and manufactured by TRUTHBIOMEDICAL with Vast Experience in this area.
Flexible configurations to suit your needs.
International standard and advanced technology suitablefor wide range use.
Compact interface and touch screen give you betteroperating experience.
Over 2,000 units installed in the world.
Application:
TRUTH BIOMEDICAL is Happy to introduce thisAnesthesia Workstation to Global Market . Our Product has the InternationalQuality & Excellence in Longevity. World The Anesthesia machine makes agood performance in Intensive Care Units (ICU), Operation room,Anesthesiology Department and other departments. From high to low acuity,simple to complex cases, pediatric to geriatric patients, TRUTH BIOMEDICAL AnesthesiaSystems offer you the choices you need in ventilation, monitoring andtechnique. What's more, our expertise in anesthesia delivery and ventilation isbased on vast Experience of developing anesthesia solutions that meet yourneeds. Good performance based on High Security, High Accuracy, HighStability and accurate monitoring.
Features
10.4" TFT LCD touch screen displays the Ventilationparameters, Alarming information and Waveform.
Electronic flow meter, instantly know the fresh gas flowto your patient.
Integration breathing circuit design, ensure easyoperating and keep tidy.
Multiple working modes such as volume control andpressure limit, adapt to wide range patient.
l Vaporizerwith temperature, flow compensation and self-lock function, keep safetyanytime.
l Multipleparameters monitoring interface, make every parameter clear, let users know thepatient conditions in all aspects;
l Realtime pressure-time, flow-time loop graphics and high precision ETCO2,O2 concentrationdetection function included.
l Vitalsign monitor and Anesthetic gas monitor are optional.
Specifications
Ventilation modesIPPV; A/C; PCV; SIMV; SIGH; MAUN
Ventilator parameter ranges
Flow meterO2(0.1-10L/min)
N2O(0.1-10L/min)
AIR(0.1-10L/min)
Rapid oxygen supply35L/min-75L/min
Tidal volume(Vt)0, 20 mL ~ 1500 mL
FrequenceˆFreq)1bpm ~ 100 bpm
I/E4:1~1:8
PEEP0cmH2O ~ 30 cmH2O
Pressure triggering sensitivity(PTr)-20 cmH2O ~ 0 cmH2O(Based on PEEP)
Flow trigger sensitivity (FTr)0.5 L/min ~ 30 L/min
Pressure control (PC)5 cmH2O ~ 60 cmH2O
SIGH0(off) 1/100 ~ 5/100
Apnea VentilationOFF,5 s ~ 60 s
Pressure Limit20 cmH2O ~ 100 cmH2O
Monitored Parameters
Frequence(Freq)0 /min ~ 100 /min
Tidal volume(Vt)0 mL ~ 2000 mL
MV0 L/min ~ 100 L/min
Oxygen concentration15 % ~ 100 %
Oscillographs display
P-T(pressure – time)
F-T(flow – time)
P-V loop (pressure – volume loop)
V-T(volume – time )
Size
Wooden case packing size:L 870*W 890*H 1600mm , GW:190KG ;
Anesthesia Machine size:L930*W750*H 1405 mm ,NW:124KG
Alarm and protection
The AC power failure alarmPower failure or no connection
Internal battery backup low voltage alarm<11.3±0.3V
No tidal volume≤5Ml within 6s
High oxygen concentration alarm
Low oxygen concentration alarm19%-100%
18%-99%
High Airway pressure alarm
Low Airway pressure alarm
High Minute Volume alarm
Low Minute Volume alarm
Continuous Pressure alarm20cmH2O-100cmH2O
0cmH2O-20cmH2O
Adult(5L/min-20L/min) Paed(1L/min-15L/min
0-10L/min)
(PEEP+1.5kPa) over 16s
Suffocation warning5s-60s no spontaneous ventilation
The maximum limited pressure<12.5 kPa
Fan error
Oxygen deficitShow on screen
Show on screen
Working conditions
Gas sourceO2,N2O,AIR
Pressure280kPa-600kPa
Voltage100-240V
Power frequency50/60Hz
Input power80VA
Vaporizer
Contact Us
Regus,RDB Boulevard, 8th Floor, Plot K-1, Sector V, Block EP & GP, Salt Lake City, Kolkata, West Bengal, 700091, India