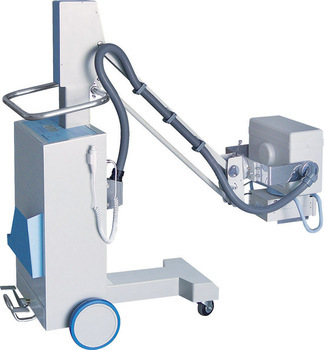 X ray Machine Analog
Product Code : JEET 01
Product Description
General-purpose, portable chest x ray machine, dedicated for radiography of standing, seated or recumbent patients as well as for patients in bed or on the operating table and as a standby emergency unit. High-frequency X-ray generator with the following output:
1. Generator output:3.5 kW
2. kV range: 40 kV - 110 kV in 1kv steps
ÂÂ
3. mA range: 20~60 mA
4. Exposure time: 4 films per min, less than 20 ms per film
5. X-ray tube:
Stationary anode tube with a focal spot of 1.5*1.5 mm
ÂÂ
6. Collimator:
bright field light beam collimator with 120 W halogen lamp and auto shut-off facility.
7.Power requirements :Single phase 220 V +/- 10% Voltage tolerance; 50 Hz power supply
8.Mobile stand: Light-weight, low height mobile and easily maneuverable stand.
ÂÂÂ
9.The mobile radiographic unit also include a handheld control and a microwave wireless remote control for the 20-meter microwave remote Without the restriction of Barriers and directional ,different from the infrared remote control . Grids reduce the fog line filters and raise the degree of scattering contrast.
10.The unit is provided with a line (power) cord of acceptable durability, quality, length and is secured with adequate strain reliefs
The unit include, power plugs that are sufficient for the maximum voltage and current of the unit.
Specifications
ÂÂÂ
Power Output: 5.0KW
Frequency : 50KHZ
X-ray Tube : Fixed anode
ÂÂ
Focus : 1.5
ÂÂ
Tube Voltage: 40~120KV(interval 1KV)
Tube Current:40~49KV 100mA1~180mAs
 50~59KV 77m 1~140 mAs
 60~69KV , 64mA 1~125 mAs
 70~79KV 55mA 1~110 mAs
 80~89KV 49mA 1~100 mAs
90~99KV44mA 1~80 mAs
100~109KV 32mA1~63 mAs
110~120KV 25mA 1~50 mAs
MAs : 1.0~180 mAs (46 step s)
Power Supply: 220V'±10%50HzÂÂ
Operation Method: Wire/Wireless control 20 meters microwave remote control exposure. .( Advantage) . It is different from infrared remote control exposure, does not suffer any obstacles in the way
Contact Us
Regus,RDB Boulevard, 8th Floor, Plot K-1, Sector V, Block EP & GP, Salt Lake City, Kolkata, West Bengal, 700091, India